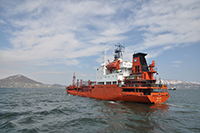 Last year Aerofuels Group of Companies started implementation of a new program of aviation fuel deliveries to the Far East airports by the Northern Sea Route. Marine tanker transportation of oil products to the Far East by the Northern Sea Route is the most economically profitable way of aviation fuels supply to the regional refueling complexes (TZK), which makes it possible to decrease the fuel price with into-plane refueling at the expense of the transportation cost reduction, and, thus, to increase passenger and freight flow in every airport.
In 2018 Aerofuels plans to continue such deliveries of jet kero to the Far East (mainly to Sakhalin and Kamchatka) by oil tankers to achieve uninterrupted and guaranteed fuel supply to their customers, Russian and international airlines.
The Northern Sea Route is the shortest way by water from Europe to the Pacific Ocean, and the main shipping line of the Russian Arctic. According to experts' opinion, over the coming years the Northern Sea Route will develop as a national and international transport system.