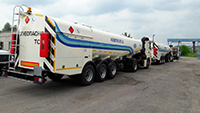 In the early March 2021 a subsidiary of Aerofuels Group of Companies started refueling of regional flights in the second airport of Krasnoyarsk.
The airport of Cheremshanka plays an important role in providing inhabitants of Krasnoyarsk and nearest areas with available transport services. Today passengers are able to get to Abakan, Barnaul, Boguchan, Svetlogorsk, Noyabr'sk and several other Russian cities from Krasnoyarsk quite quickly and comfortably.
A full set of services in refueling in the airport of Cheremshanka is rendered by Aerofuels Group of Companies refueling complex which was launched in Krasnoyarsk in 2016. It has been already operating in the international airport of Yemelyanovo as an alternative refueler for five years. TZK capacity is up to 2000 t of fuel per month, it is equipped with its own special refuelers and up-to-date equipment for safe aircraft into-plane fueling. The company has the experienced and high-quality personnel. Quality of jet kero and fuel and lubricants meets high Russian and international standards, including safety and environmental regulations.